Stay secure and resilient with our office space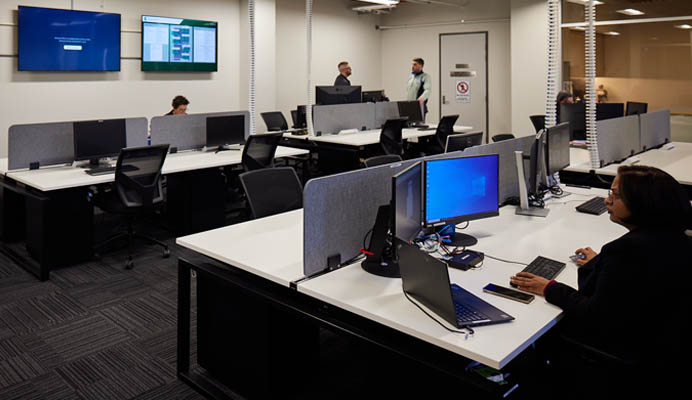 Connected spaces that tick all the boxes
Our connected spaces can be configured to supply highly secure and Resilient Office Space, remote working, emergency response and business continuity operations, located in the same site as your data centre.
Locate your office space, operations centre or business continuity facilities in selected network sites for resilient power (24/7), low latency telecoms connectivity and security.
Why our Resilient Office Space works for critical operations
Enhance your operational resiliency
Remote control and operations facilities help keep your organisation running, even if your other sites are subjected to disruption. 
Quick, cost effective site deployment
Save the time and cost that comes from building new facilities by using our existing sites, power, security and connectivity.
Resilient power
Each office space is connected to UPS and multi-failover generators to help ensure operational continuity.
Large, customisable spaces
Sites feature large open areas with high ceilings (generally 4.5m or higher) that you can customise to your needs. 
Security
Access to our sites is controlled and monitored 24/7. We provide secure, powered office space, with flexible floor plans to cater for AV and staffing requirements, connectivity and colocation options, for you to fit out according to your requirements.
Connectivity and colocation options
Combine Resilient Office Space with connectivity options for low latency services, including Dark Fibre, carrier neutral lit connectivity and the nbn® network.
Case Study
How Telstra InfraCo and Fugro work together
Our client, Fugro Australia is a geodata company whose interests span construction, offshore oil and gas, renewables and the space industry. Their remote operations centre is run from a secure Telstra InfraCo building equipped with reliable, high performance connectivity – a crucial consideration for controlling their remote assets, up to 2,000 kilometres away.
Footage: Camera pans across an evocative cityscape at speed with moody afternoon light. We cut to close up details of building architecture from a variety of angles.
Audio: Piano music crescendos.
Footage: Shot of Telstra Fixed Network Site, Perth WA, then a person in an office speaking directly to camera accompanied by the title, Mark Wilson, Project Delivery manager, Fugro Australia.
Mark Wilson voiceover: The remote operations centre here within the Telstra building enables us to provide assurance for our clients that we're operating on a 24/7 basis, without the risk of losing connectivity, which is the most important thing for us when we're operating remote assets that are totally uncrewed.
Footage: Montage of Fugro boat on open sea and employee monitoring the boat from a computer screen. We then cut to a new person speaking directly to camera from a control room, accompanied by the title, Stefan Haliczenko, Remote Operations Superintendent, Fugro Australia.
Stefan Haliczenko voiceover: Fugro Australia's core business varies from providing geodata to construction, offshore oil and gas, the renewables market and we're moving into the space industry as well.
Footage: Montage of Fugro boats, oil and construction vessels, wind farms and a space shuttle.
Mark Wilson voiceover: We've worked with Telstra InfraCo for a number of years. Previously, we were based out of the Gnangara Centre. We've moved here now into the Telstra Exchange Centre in the centre of Perth, which offers a much more accessible location for our staff to be operating the assets remotely.
Stefan Haliczenko voiceover: We're looking at the bridge of the vessel – 2,000 kilometres away from where the vessel is actually located, on the northwest shelf. So, at the moment, these pictures are all live – we've got about 16 channels of video coming in from the vessel. We've got three cameras onboard the underwater vehicle plus the other sensor payload that's on it at the moment. Our risk tolerance is as close to zero as possible. The last thing we want to do is lose a vessel, so being at a facility like this provides us the redundancy, the power, the communication systems and security and a central location for our staff.
Footage: Montage of Perth street, Fugro control room filled with giant screens, operators monitoring the vessels onscreen, underwater footage, Telstra building from above, data rooms and employees in a café chatting. We then cut to a new person speaking directly to camera, accompanied by the title, Alison Holton, Telstra InfraCo Property Manager.
Alison Holton voiceover: Telstra InfraCo has many buildings across Australia that are ideally suited to the types of tenants that are looking for an office area, a secure data centre space, they could be a remote operations centre, or even a cyber security operating centre. They have low latency connectivity, they're highly secure and we have power of resilience already in place for our building services.
Footage: Montage of a range of Telstra InfraCo buildings from all angles. Cut back to Stefan.
Stefan Haliczenko voiceover: We didn't look elsewhere. Telstra provided us 'yes' answers all along the way. They have been a great partner in the sense that they were the ones who were able to provide us with the communications and no one else has the same facilities and infrastructure.
Footage: Montage of Fugro operations on land, at sea and in the control centre. Cut back to Mark.
Mark Wilson voiceover: The benefits for both Fugro and Telstra, having us located in the remote operations centre are already coming to fruition, where you see other government agencies moving into this building. We're also looking at expanding our operations given the business need.
Cut to end screen featuring Telstra InfraCo and Fugro logos.
– END –
Explore our other products
Connect with us
Find the right team member
Our services include sales, maintenance and partnerships – all of which you can access from our main contact page or enquiry form.
Help protect our network
Minimising damage to infrastructure to maximise the efficiency of essential services and customer safety.